The eating out industry has had dramatic ups and downs over the past few years and because of this, consumer tastes have changed. In a world where people do not necessarily need to leave their houses to experience a positive dining experience, what is attracting them to eating out?
Based on Lumina Intelligence's newest UK Eating Out Marketing Report, the future of eating out is optimistic and will be bolstered by a few key trend drivers, one of these being a focus on experience-driven formats for bars and restaurants.
Experience-Driven Formats
In 2023, the importance of creating unforgettable experiences takes centre stage as consumers are now scrutinising the value they receive more than ever before. Special occasions, on-the-go visits, and experience-driven outings are becoming increasingly prioritised.
Experience-driven formats combine the hospitality of a bar and restaurant experience with the leisure of gaming, competition, and activity to create 'competitive socialising'. While the concept itself isn't new, the recent resurgence of competitive socialising has transformed into an undeniable avenue to attract customers looking for more bang for their buck. Customers engage in interactive games or leisure activities while enjoying a vibrant atmosphere, music, food, and drinks. These large-format venues, often located near business districts, boast Instagram-worthy decor to widely appeal to millennial and Gen Z customers.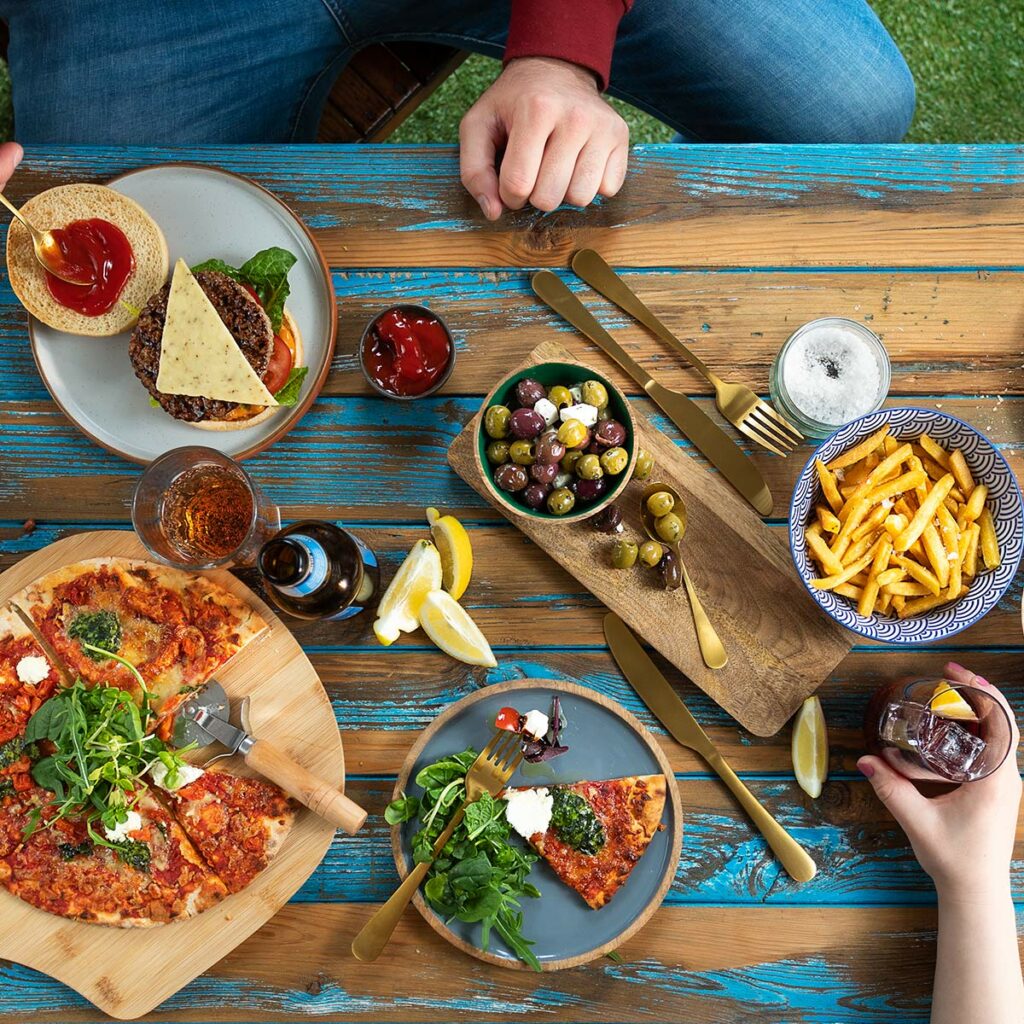 Competitive Socialising
The competitive socialising industry has experienced remarkable growth, with a nearly 400% increase since the beginning of 2021, according to Cushman & Wakefield. This trend reflects the rise of the experience economy, with consumers seeking unique, exciting, and premium experiences. Research shows that 41% of Gen Z customers in Britain have already visited competitive socialising venues, and 47% are eager to do so in the future. This concept also appeals to those who prefer entertainment not centred around alcohol consumption.
The rise of this new brand of socialising likewise calls for a shift in food service, prioritising shareable and party-style food, exactly like our Tear & Share Pizza or Cheesy Stuffing Balls.
Experience Elevating Food
As a key hospitality supplier in the UK, we understand the importance of providing quality food to elevate these experience-driven eating out settings. After all, a big part of the experience for customers is the food. As dwell times tend to be longer in experience driven settings, the food offering needs to allow for substantial meals as well as sides and picky dishes. Fun, indulgent dishes like our Dirty Dunkin Burger or Pizza Quesadillas pair well with a vibrant setting, while one of our many vegan options, such as the Breaded 'Fish' & Chips, appeal to the sizeable percentage of vegan foodies across the Gen Z and millennial demographic. According to Lumina Intelligence's report findings, 32% of consumers are motivated to visit these venues more frequently if they offer new and improved food options and food and beverage revenue often exceeds entertainment income in most socialised gaming venues. In fact, for brands like Junkyard Golf and Puttshack, food and beverage accounts for 45-50% of their income.
Industry-wide Benefits
Competitive socialising offers a plethora of advantages for landlords, tenants, and consumers alike. It substantially increases dwell time, brings people together, and enhances footfall. The lively atmosphere and buzz created by these venues improve the overall customer experience and foster loyalty. As visitors share their experiences on social media, marketing presence receives a natural boost. Additionally, increased food and beverage sales contribute to income and rent affordability, supporting the evening economy in a safe and entertaining way. Brands like Boom Battle Bar, who offer a wide range of activities from karaoke to axe-throwing, have successfully expanded all over the UK and are set to double their estate.
An Experiential Future
As the eating-out industry evolves, embracing experience-driven formats like competitive socialising becomes crucial for staying relevant and appealing to the younger generations. By providing unique and engaging entertainment along with food and drinks, bar and restaurant owners can position themselves for future growth and success in this dynamic market.
If you're looking at what food offerings would work best for your experience-driven bar or restaurant, we know what works. Speak to us for guidance on what could elevate your food experience and increase dwell times and customer experience or check out our wide range of wholesale products to start re-imagining your menu today.