This month's 'The Crunch' series focuses on our Brioche style bun. Accredited by the Vegan Society, our bun offers the same soft, sweet texture and taste of an all-butter brioche, but contains no dairy, making it the ideal burger accompaniment. With our Brioche style bun, there's no need to have two buns in the kitchen for both meat and meat-free meals. Chefs can now utilise one bun to cater for a variety of menus.
Our brioche buns are one of our best sellers – and with its delicious taste, we can see why! Taking a nod from our bestselling product, The Crunch will explore the latest burger, bakery, and ingredient trends to help get you ready for the summer season using Kara products. Our brioche style bun pairs itself well to street food vendors, a channel that is continuously evolving and is notoriously consistent for its enticing menu changes. What was once a place for cheap burgers and hot dogs, the evolution of street food now lends itself to good quality food at a reasonable price. Street food encompasses global trends that are well placed for millennials with increasing growing adventurous palettes.
American Street Food
American cuisine is arguably a street food staple, providing everything from loaded cheeseburgers served on brioche buns, to Louisiana Po Boy sandwiches served in hoagie rolls. This year we are seeing American dishes grow, with Philly cheesesteaks moving from a sandwich filler into a brioche burger bun, served with charred peppers and crunchy lettuce. Another decadent dish includes hot dogs transformed into corn dogs for an added crunch, before being loaded with fried onions, mustard, and ketchup. One of this year's biggest summer sensations is 'Oklahoma' smash burgers, which are a concept whereby beef patties are smashed into the hot grill. The fat has nowhere to go but back up into the burger patty, meaning the burger is essentially cooking in its own beefy juices, allowing for succulent centres. The patties are typically served with mounds of onions, cheese and then placed into a brioche bun – God bless America!
Some of our favourite American cuisine operators this month are Smash Burger (UK).
Global Flavour Trends
Burger menus are getting even more creative this summer, as we are now seeing a fusion of international flavours on menus. Patties are now being infused with a wealth of spices, classic mayo's are getting upgraded to fragrant varieties and we are seeing a lot more fermented and pickled toppings.
Many operators are now merging global cuisines to create new flavours combinations to entice and excite consumers. Complimenting cuisines mix ups driving the market are Mexican and Korean, we are now seeing street food classics such as spicy pork belly being topped with salsa verde and lime crema. Alternatively, chefs are blending Mexican flavours with their protein of choice and serving to customers with Korean mayo, kimchi slaw and sweet and spicy sauce. Kara's Brioche Style Bun is soft and light in texture with a sweet buttery note, to compliment these fusion trends.
Some of our favourite operators who are merging global flavours include Mexican Seoul (UK)  and Bebop Korean Mexican Grill (USA). 
Vegan Meat Trends
We can't discuss burgers without mentioning those of the vegan variety. Gone are the days when vegans would have to choose from a separate menu when eating out of home. Today, vegan burgers are now incorporated into a restaurant's main menu – and they taste just as good! This season, vegans are getting much more than just a basic bean burger, chefs are feeding off the super-indulgent 'dirty' food trend, enticing those looking to seek comfort – but with a vegan twist! We're seeing more imitation meats taking centre stage, such as vegan beef patties made with pea and soya, vegan shawarma as well as Impossible chicken and pork.
As we're approaching the warmer months, we are now seeing the demand for vegan meat alternatives move from beef towards fish and seafood, as consumers become increasingly conscious of sustainability. Vegan Seacakes, sushi and tuna will take centre stage this year. Make sure you have a bun to match every occasion with Kara!
Some of our favourite vegan operators include V Rev (UK) and Honest Burgers (UK).
Our Brioche Style Buns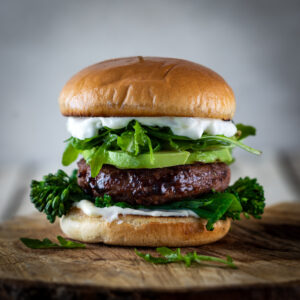 Kara's Vegan Brioche style bun has a soft light texture infused with sweet buttery notes and is finished with a dairy free golden glaze, which lends itself beautifully to a wealth of menus. The vegan brioche bun has been accredited by the vegan society; therefore, it is well placed for both meat and meat free menus. As this bun is great for dual menus, it also offers the perfect storage solution to those chefs who have limited space in their kitchens. The bun comes in both 4 and 4.5 inch sizes and both are ready sliced for added convenience in the kitchen. All of Kara products are frozen on the production line, allowing the freshness to be locked in.
Discover more of the Kara range here or find your nearest stockist.
*Trends from the Food People, Street Trends, 2022
**Lumina Intelligence, Menu & Food Trends, 2021